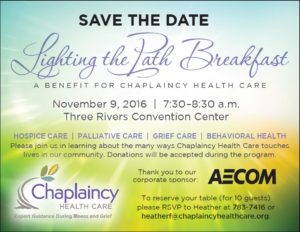 You are invited to join us for our annual Lighting the Path Breakfast. This is a great opportunity to learn about all the ways Chaplaincy Health Care touches lives in our community. Through hospice care, palliative care, grief care, Cork's Place, behavioral health services and chaplain services, we provide expert guidance, care and support when it is needed most.
There is no charge to host a table at the breakfast, but donations will be accepted.
Your support makes a difference! RSVP to host a table by clicking here, or call (509) 783-7416.