In celebration of our agency's 50th anniversary, we will highlight the journey of our work, decade by decade through a series of blog posts.
Our heritage of compassion began in 1971 when a group of local churches in the Tri-Cities area established a program with one chaplain to provide outreach to people not being served in jails and nursing homes, and people coping with dying or the loss of a loved one.
An article published in the Tri-City Herald, in March 1973, describes our humble beginning:
A program was sparked from an idea of four persons, members of Richland Lutheran Church, who felt there was a need for a community ministry beyond established church structures. A ministry that could reach out to people at those places in the Tri-Cities concerned with the mental, physical, or social health of area citizens.
John Moody was asked to come to the Tri-Cities in September of 1971 to find the places where a chaplaincy program might be useful. He soon became involved in work at the Fred English Youth Center (Today's Juvenile Justice Center) and other service organizations. The chaplaincy program received financial support and or endorsement of more than 12 Protestant and Catholic congregations.
"The chaplaincy provides an opportunity for connection and flow of communication between the medical community, the religious community and the social services community," the Rev. John Moody explained.
Thanks to a three-year grant from the American Lutheran Church for $6,867 per year and contributions from member congregations and other community organizations, Rev. Moody was able to explore the community's need for services. In addition to serving youth at the Fred English Youth Center, the chaplaincy's first contract, services were provided to the Alcoholism Information and Referral Center and the Benton Franklin Mental Health and Family Counseling Center. Rev. Moody and Rev. Fritz also hoped to secure chaplain services contracts at two local hospitals, the jail and in nursing homes.
By 1973, the Tri-Cities Chaplaincy started holding seminars to help the community understand, accept and work through death, dying and grief. An article in the Tri-City Herald on Sunday, June 10, 1973 quotes Rev. John Moody as he talks about the reason behind the Tri-Cities Chaplaincy's seminar on living and dying:
"We need to expose people to another way at looking at death. Hopefully, we can heighten an awareness for those who work directly with the dying and grieving and also the general public, so that people can come to deal more effectively, openly and honestly with persons who are experiencing this time in their lives."
Chaplain William Voris, director of pastoral care at Good Samaritan Hospital in Puyallup was a guest speaker at the "Perspectives in Living and Death" seminar and focused on "good grief".
"Not the Charlie Brown expression but the idea that persons should be free to share their thoughts and feelings as they work their way through the grief experience. Good grief begins with a lot of tears shared with people who understand what you are going through and allow you to go through it. Bad grief is when everything has to be locked in."
The need for grief support led the Chaplaincy to begin Project Concern, a support group for widows and widowers.
In 1974 the United Way approved the membership application of the Tri-Cities Chaplaincy for inclusion in its campaign for funding consideration.
In 1975, the Tri-City Herald reported that the Tri-Cities Chaplaincy had served 800 people that year:
101 received personal counseling,
270 in nursing homes were visited by lay chaplains,
435 juvenile home residents and their parents received services,
80 clients from the mental health center,
100 people were served by Project Concern (widow support)
16 physically handicapped
person participated in a new religious education
program
By the end of the decade, Tri-Cities Chaplaincy becomes known in the community as "the place to go for grief issues" and continues to expand its services. The agency secured contracts with more community organizations, including Kadlec hospital, Mid-Columbia Mental Health, and nursing homes. In addition to new service contracts, the board of directors approved two new programs: Hospice and Clinical Pastoral Education (CPE).
The original convictions to serve others in times of crisis, death, dying and grief remain at the foundation of Chaplaincy Health Care today – 50 years later – as we continue to bring expert guidance, comfort, and peace to body, mind and spirit.
Stay tuned as we unfold Chaplaincy Health Care's 50-year story throughout the year.
---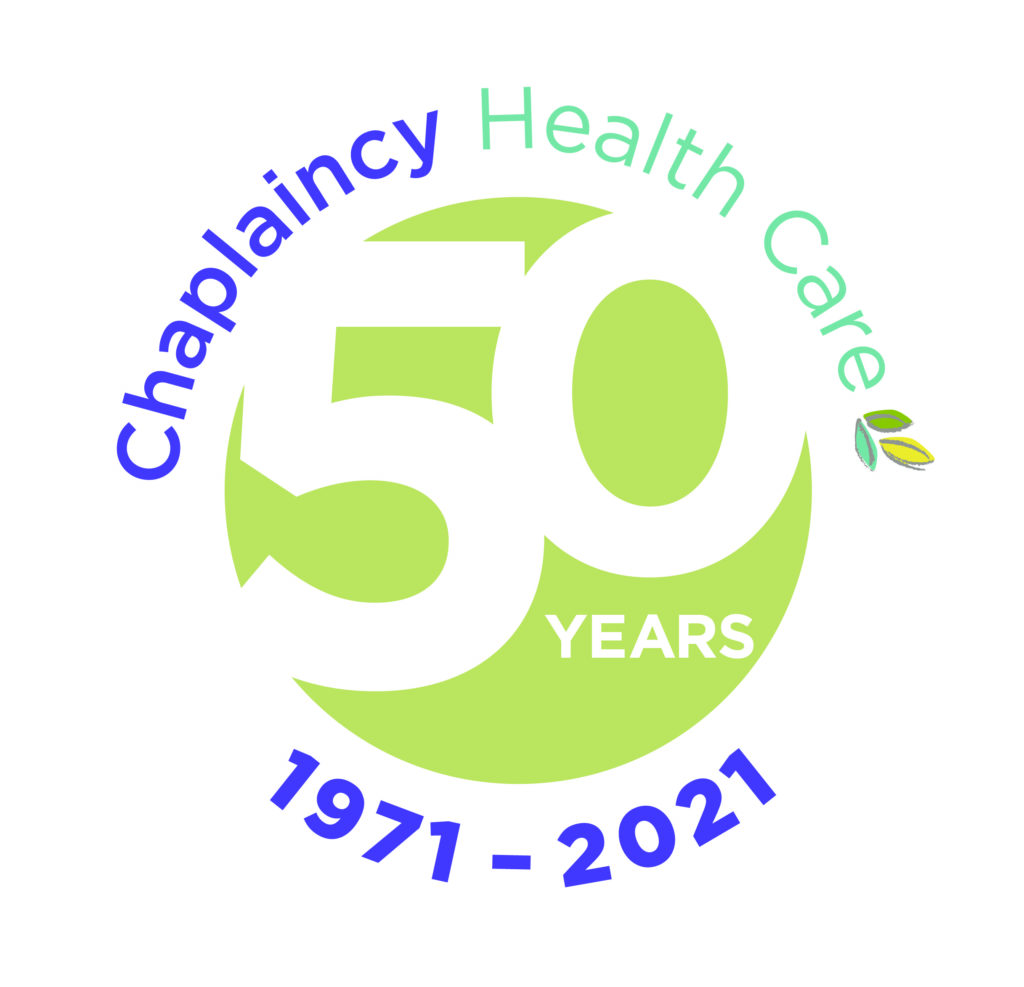 Help us celebrate! Sign our online guestbook – Share a memory, special experience a prayer or blessing for our next 50 years! Go to: www.ChaplaincyHealthCare.org/50years