Repeat Boutique, Chaplaincy Health Care's non-profit thrift store program is growing!
We are excited to announce that our newest thrift store will be opening this spring in Pasco. The Pasco Repeat Boutique will be located at Sandifur Crossing on Road 68, on the corner of a shopping strip that includes Planet Fitness, Dollar Tree and Grocery Outlet. This will be Repeat Boutique's largest store with 10,000 square feet of retail space. The Kennewick and Richland stores are roughly half that size.
"After the success we've experienced in Downtown Kennewick

and in the Uptown Shopping Center we wanted to find a location in Pasco," said Gary Castillo, Executive Director of Chaplaincy Health Care. "We realized that we really need more room to process donations and more space dedicated to sales. This location was available and once we expressed interest in it, all the pieces seemed to fall in to place."
The store is set to open in April. Since the first store opened in Kennewick in 2017, Repeat Boutiques have contributed $203,000 to Chaplaincy Hospice Care.
Volunteers and donations will be needed for the Pasco store. If you are interested in volunteering at any of the Repeat Boutique stores, please contact our Volunteer Services department at (509) 783-7416. Volunteer Information nights will be held on March 11, 19 and 24th from 5:30 – 6:30 pm at the Richland Repeat Boutique located in the Uptown Shopping Center, 1331 George Washington Way.We will  accept donations at the Pasco location a few weeks before the store officially opens. Watch our website (chaplaincyrepeatboutique.org) or our Facebook page (facebook.com/ChaplaincyRepeatBoutique) for dates and times.
What Makes Repeat Boutiques Unique?
Our Repeat Boutique thrift stores are unique for several reasons: First, our stores are not-for-profit which means the net revenue is used to support Chaplaincy Hospice Care's mission to serve others with exemplary care at the end of life. The dollars earned through Repeat Boutique help fill in the funding gaps at the Hospice House and support the services provided to patients and families. Secondly, the stores support hospice families after their loved one has passed by providing a dignified outlet for their items and an unexpected form of grief support as staff and volunteers offer a listening presence when it's difficult to let go. Thirdly, we are able to maximize the dollars that go to hospice by utilizing an amazing group of volunteers to help run the stores. We are grateful to all who have volunteered their time, donated items or shopped our stores and became partners in our mission to serve others. We strive to offer a unique thrift experience by providing a clean and friendly shopping environment and great value for a great cause. Stop in and see for yourself!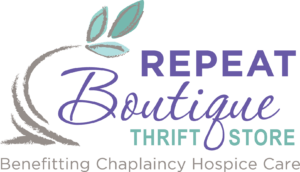 The Pasco store isn't the only new thing at Repeat Boutique – The logo has undergone a transformation as well. The "guiding tree" element was added to link it more clearly to Chaplaincy Hospice Care. Shoppers will begin seeing the new logo on store fronts and posters inside the stores will talk more about the mission and how the stores support Chaplaincy Hospice Care.